If you're looking for a custom cartridge heater manufacturer that provides enough heat to a variety of substances, Rama Corporation is the most trusted USA-based supplier. Our range of cartridge heaters is suitable for a variety of industries. We provide various high-density and high-temperature cartridge heaters to companies across the globe. If you're wondering how a cartridge heater may be able to improve your business, it's essential to have a deeper understanding of this popular product.
Below, we'll look at cartridge heaters and how they can improve your business's productivity.
What is a custom cartridge heater?
A cartridge heater is a tube-shaped heating product used for several purposes. They are small, fitting in most containers and spaces, yet highly capable.
Cartridge Heater Basics
Cartridge heaters provide localized heat and are prevalent in heavy industrial businesses. You'll find cartridge heaters used in a range of processes, including plastic welding, fluid heating, rubber molding, food production, heat staking, die casting, extrusion, and more. In most instances, cartridge heaters are controlled by a central thermostat, helping to ensure that you're able to manage the level of heat emitted. Sensors are also often fitted to the cartridge heater to monitor the temperature of the surrounding area.
Many people compare cartridge heaters with tubular heaters because they have similar shapes and functions. However, the primary difference is the way that the heat is applied. With tubular heaters, you often find that manufacturers will weld or attach them to a range of different surfaces, while cartridge heaters are inserted into containers through drilled holes. In many ways, cartridge heaters are much more flexible since they are not fixed to a specific substance or container.
We'll explore the exact construction and design of cartridge heaters below.
How Cartridge Heaters Work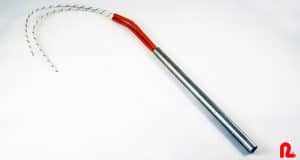 Cartridge heaters work by using alternative currents – the current transfers through a coil to heat the wire within the cartridge heater. The cartridge heater sheath will then be heated, which transfers the heat to the liquid or substance.
As a product, it's a relatively basic heating device. However, it takes specialist designers to ensure that your cartridge heater watt density provides effective heating. At Rama Corporation, we are a cartridge heater manufacturer in the USA with large watt densities, which is the best way to guarantee that your cartridge heater is effective at warming its surroundings.
There are different types of cartridge heaters that perform heating for all types of purposes. If you're looking to obtain a cartridge heater for a specific use, it's critical to choose the right heating element. Below, we will explore the cartridge heater options available to commercial customers.
High-Density Cartridge Heaters
High-density cartridge heaters have a high watt density. The denser your cartridge heater is, the more effective it is at providing heat. If you're looking for an efficient and effective cartridge heater, it's essential to consider high-density heaters.
If a high-density heater is manufactured correctly, it will provide consistent heat for a prolonged period. At Rama Corporation, our high-density cartridge heaters are 'long life cartridge heaters'; we build them to stand the test of time. If you require this type of product for your industrial business, Rama Corporation is the best option available.
High-Temperature Cartridge Heaters
High-temperature cartridge heaters are built to provide high levels of heat to various substances. While most traditional cartridge heaters provide up to 800°F worth of heat, high-temperature cartridge heaters provide 1600°F, which helps ensure that you can give extreme heat to the substances that require it.
High-temperature cartridge heaters are also built to withstand massive amounts of heat. The protective sheaths ensure that the cartridge heater faces no harm by prolonged exposure to high temperatures. If you're looking to obtain a high-temperature cartridge heater, you need to be sure that the wire leads can withstand the heat generated or risk damage.
At Rama Corporation, we offer premium high-temperature cartridge heaters that help you effectively generate large amounts of heat.
The Cartridge Heater Construction
Our construction process ensures you receive the best cartridge heaters on the market. While the exact construction process will depend on the heater that you purchase, all our cartridge heaters are hand swaged to ensure the best possible compaction, diameter, and lifespan.
Cartridge heaters contain insulated heating coils that then transfer heat to an outer sheath. Lead wires are used to provide electricity to the cartridge heater and are hung through a hole in the containers or drums.
Our design and engineering team can handle small orders along with very large bulk orders. If you are looking for a dedicated engineering team to help spec out your next project we have that as well.  We work with plenty of customers who only require a small number of custom cartridge heaters and many large bulk order customers. Please fill out our Cartridge heater quote form to get started.
Types of Cartridge Heater Elements
If you want to understand how these products are constructed, it's important to look at the various cartridge heater elements. Here are some of the components found in most options on the market.
Sheath
The sheath is an essential component of any cartridge heater, composing the outer layer, which means that it's the part that has direct contact with the material or liquid that you're heating. The sheath must protect the rest of the cartridge heater components from external damage.
Because a sheath faces exceptionally high temperatures, it must be able to withstand the heat, certain types of liquids, and other potentially problematic substances. Many sheaths are created using stainless steel.
At Rama Corporation, we use both stainless steel and Incoloy sheath, depending on the product that you purchase. Both sheath materials do an excellent job of protecting the internal components of the cartridge heater and transferring the heat to the surrounding liquid or substance.
Our Incoloy sheath is built to withstand higher temperatures.
Sealing
The sealing is another critical component of a custom cartridge heater. The best cartridge heater suppliers use high-level sealing to prevent contamination and complication. The part of the cartridge heater that opens requires sealing to prevent the entry of liquids, contaminants, and other unwanted materials.
This heater is in place to help protect the internal coil. Without adequate sealing, the cartridge heater would become compromised. At Rama Corporation, we use lava and mica seals to keep the inner components of our cartridge heaters free from interference.
Insulation
Those manufacturing cartridge heaters must ensure that the coil is kept separate from the sheath. If the coil in the heater touches the sheath, it may cause a short circuit, which can result in a variety of significant issues for business owners. Insulation is placed between the coil and the sheath.
This component is critical if you want to ensure your cartridge heater continues to operate effectively.
Heating Coil
The heating coil is where the real magic happens; the electric current runs down this coil to create the temperature you're looking for. The coil's heat then transfers to the sheath, which has direct contact with the substance or liquid in question.
If you want to ensure that your cartridge heater can provide constant, adequate heat, you need to use a manufacturing company that values the quality of their coils. At Rama Corporation, our heating coils are built to last and are of the highest quality.
Lead Wire Type
When you place a cartridge heater in a barrel or container, you need a lead wire to hang the heater. Because of the massive amounts of heat generated by cartridge heaters, it's vital for lead wires to be durable and capable of handling significant temperatures. There are a variety of different materials used to create lead wires; the material used in your cartridge heater will depend on your requirements.
At Rama Corporation, we use nickel, Teflon, and a range of other lead wire materials. We can help you assess which lead wire is best for your business's needs.
Terminations
Terminations are in place to ensure that you can safely stop the heating cable or component. The terminations in your cartridge heaters will depend on the manufacturer with which you work. At Rama Corporation, we can customize yours to suit your needs.
Rama Corporation: A Supplier of Custom Cartridge Heaters
Our team works around the clock to bring our customers the best custom cartridge heaters on the market. If you have specific requirements for your cartridge heater, we can build custom heaters that suit your company's infrastructure. As a premium supplier of cartridge heaters for a range of business sectors, we know what it takes to satisfy clients in a variety of niches.
We build our cartridge heaters with longevity in mind, so our products are made to last. We partner with some of the largest industrial companies from around the globe. Our ability to build custom cartridge heaters for any condition helps set us apart from the competition.
Instead of working with cartridge manufacturers that don't have a USA-based factory, working with Rama Corporation ensures that you have access to heaters that are tailored to your specifications and are built right here in the United States of America! Our team of specialist engineers and manufacturers will work closely with your plans to develop the perfect heater for your business. There's no job too big or too small for our company.
While the possibilities are endless, we provide two primary forms of cartridge heaters. Our stainless-steel cartridge heaters are available for those seeking moderate to high temperatures and are known for their durability and longevity.
For those who need to turn the heat up, even more, our high-end Incoloy cartridge heater is an excellent option. This heater is designed to withstand harsh conditions and extreme temperatures and is one of our signature products.
Regardless of which option you choose to work with, you can customize your cartridge heater with a range of settings and features. We provide several diameters; you can select the size of the cartridge heater that best suits your containers and requirements.
We also provide a wide variety of terminations and applications. For those who want greater control over the power of their cartridge heater, you can customize the watts and voltage of the Rama Corporation products.
We also give excellent choices in terms of length. You can choose cartridge heaters ranging between 7/8″ to 72″, suitable for almost any purpose. If you live in Europe, we can offer measurements using the metric system.
Top-quality manufacturers that we work directly with, or are suppliers for include, TE Connectivity/AMP, Molex, Hubbell, Leviton, and more.
Rama Corporation: a USA-Based Cartridge Heater Manufacturer
If you're looking to work with a company that has a wealth of experience manufacturing custom cartridge heaters, Rama Corporation is the perfect partner. With over 70 years of experience producing some of the most trusted heating equipment in the industry, Rama understands what it takes to build premium heating elements. Our team of experts can help your business achieve its productivity goals.
As a company, we have a firm commitment to USA-based manufacturing. All our products are manufactured within the United States. We also source all raw materials domestically. If you want a heating product that is rigorously tested to pass all UL safety certifications, Rama Corporation products are for you.
Get in touch with our team today to discuss your needs. Alternatively, you can use our online quote form to specify your requirements and receive your pricing options.
Ordering Via Our Cartridge Heater Quote Forms
If you're looking to build a custom cartridge heater, we have streamlined the process to make ordering more convenient for our clients. Our online quote form allows you to submit your cartridge heater specifications and order details and then you'll receive a quick quote. Once we review your quote form, we'll provide you with additional information and a cartridge heater price.
On our cartridge heater quote form, you can specify a range of different features. You can input your desired volts, watts, watt density, maximum temperature, and more. You can also define the diameter of the cartridge heater, the sheath length, the sheath material, and multi-circuit zones. Our quote form allows you to build a truly powerful custom cartridge heater.