As the leading American-based industrial heating element manufacturer, Rama Corporation's products have a diverse range of applications. This was evident when its team manufactured a Flex Heater that exceeded all expectations during an intriguing popcorn machine restoration.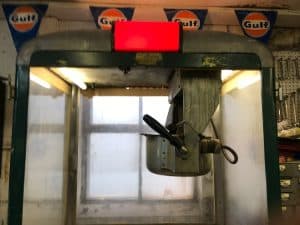 Rama Corporation is well known for its devotion to making quality components that are reliable in every situation. Based in San Jacinto, California, the custom industrial heating element manufacturer also has a reputation of never shying away from a project, no matter how challenging.
This was recently showcased when the engineering team was tasked with manufacturing a replacement flex heater. The replacement flex heater was to be used in a remarkable restoration job, where it would be installed in a 40's vintage popcorn machine. Rama was contacted by the restoration company to replace a 60-year-old flex heater that was original to the machine. And although the heater was still in working order- which was quite surprising- the client needed it replaced for the restoration project.
Once the engineering team received the flex heater specifications, they got right to work developing the brand-new replacement. The end result was delivered on schedule, and the flex heater fit perfectly in the antique machine. And unsurprisingly, it continues to operate above and beyond expectations and, in all likelihood, will last for another 60 years. All involved were very happy about these results.
"For this project, our client gave us accurate measurements and a clear description of what we were replacing," commented a spokesperson from the company. "Even though it was antique, we knew what would work, and we were confident we could provide something rugged and durable enough to stand the test of time."
In addition to flex heaters, Rama Corporation also stocks and can manufacture custom heating elements in other categories like Band and Strip Heaters; Cartridge Heaters; Coiled Nozzle Heaters; Flexible Heaters; Immersion Heaters; PVC Heaters; and much more. A full list is available on the company website. Of course, you can also make a quick call or send an email to discuss the details of your specific needs to see how Rama can help.
Rama Corporation continues to operate in the challenging environment that Covid-19 has brought. Despite that, the company puts the safety and health of its workers first. It follows all mandatory rules while maintaining its own internal policies to ensure that its valued staff stays happy, safe, and healthy.