PVC Blanket Heater Specifications and Information
For over fifty years, Rama's name has stood for quality in the industrial heater industry. Now, Rama brings to the electrical, plumbing, and landscape contractors a patented design that has been proven in the field for fifteen years! This heater is portable, rugged, and easy to use. Simply wrap the blanket heater around the section of PVC pipe you wish to bend, secure the strap around the heater, and plug the unit into any 120 VAC outlet. When the PVC conduit or pipe becomes pliable, remove the heater and bend by hand.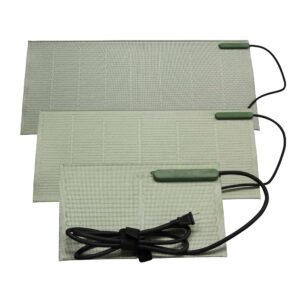 The heater temperature is maintained by an internal, automatic thermostat that allows for the heater to get to temperature quickly but will not allow the heater to go above 145° C (~300°F). Bending a schedule 40 PVC 1/2 inch pipe at a 90° angle can be accomplished in as little as 3 to 4 minutes! Bending a 4 inch diameter, schedule 80 PVC pipe can be done with the largest of the heaters in as little as 12 minutes! The unique circuit design and the way the heater is constructed ensure controlled, even heating for uniform bending time after time. The use of heavy duty materials; including t-stat, power cord, velcro® strap, and fiberglass re-enforced silicone rubber; allow for long service life in the field.
Portable PVC Blanket Heater to Bend Schedule 20 to 80 PVC Pipe
Rama's
Part No:
F-3418
$128.50/ea
F-3419
$230.40/ea
F-3420
$305.95/ea
Capacity:
Up to 1-1/2"
PVC
All Schedules
2" – 3"
PVC
All Schedules
3-1/2" – 4" PVC

All Schedules
Power Source:
120 Volts
A/C
120 Volts
A/C
120 Volts
A/C
Nom. Size:
13" x 8-1/4"

(330.2 mm x 209.6 mm)
30" x 13-1/4"

(762.0 mm x 336.6 mm)
38" x 16-1/4"

(965.2 mm x 412.8 mm)
Nom. Weight:
1.7 lbs

(.8 kg)
3.3 lbs

(1.5 kg)
4.9 lbs

(2.2 kg)
Bulk Pricing & Free Shipping Available!
Who is our product made for:
PVC Blanket Heater Order Form