Tubular heaters are quickly becoming the product of choice for many manufacturers, since they can be utilized for several purposes and are compact in size. When acquired from a reputable tubular heater manufacturer, their energy requirements must be relatively low compared to the functions they carry out.
The tubular element that emits thermal energy gives these heaters their name, and they are used the most often for a variety of reasons. The configurations of tubular heating elements offered by an expert tubular heater manufacturer are incredibly adaptable, allowing many use cases in a wide range of products and industries. The shape may even be altered to accommodate already-existing equipment. Rama Corporation welcomes end users to reach out to us for a custom tubular heater quote for your next project. In many instances, the end-user is the one who is responsible for making the necessary adjustments, or with a custom tubular heater, we can modify a design to fit your need.
In the following section, we will discuss a variety of advantages associated with using tubular heaters sourced from an upright tubular heater manufacturer. So, let's get started.
Benefits of Tubular Heaters from an Expert Manufacturer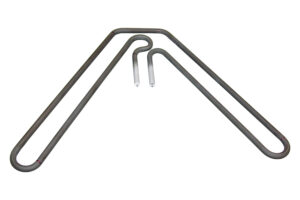 There is a good chance that the malleability of tubular heating elements and the simplicity with which they may be fitted or installed are the qualities that attract them to customers the most.
Annealing is a procedure that skilled tubular heater manufacturers usually perform on heating tubes. This process results in the heating equipment entering a condition in which it is more pliable. After this softening process, the heating coils become flexible and ready to be molded to suit any surface compatible with them, including the inside heaters. The mechanisms of conduction, convection, and radiant heat transmission are all included in these heating systems' construction.
Industrial heating elements that are the most cost-effective, adaptable, and energy efficient are tubular heaters obtained from a proficient tubular heater manufacturer. When it comes to the sizes, configurations, and compositions of tube elements, there is something for everyone—from the small-sized projects such as heating elements for a dishwasher to the maintenance worker tasked with repairing a large storage tank that depends on high thermal energy output.
This miraculous heater is well suited for the engineer who needs radiant tube heaters for an upcoming project. So, the tubular heater is the most popular option since it is the most cost-effective, has a broad range of applications, and delivers excellent performance.
Who Is A Reliable Tubular Heater Manufacturer?
Without question, you will come across various tubular heater manufacturers and suppliers in the market. But the question is, do they all provide high-quality products while meeting your personalized demands? Unfortunately, the answer will be NO. How can we pinpoint a reliable tubular heater manufacturer that is both experienced and capable? Rama Corporation has over 70 years' experience in the heating element manufacturing business and our customer service is our number one priority.
Some common questions that arise when choosing a qualified professional and trustworthy tubular heater manufacturer are the materials used to construct the heating elements, whether or not the supplier has used the latest technology and the durability of their products.
Give Rama Corporation a call today so we can help make your next project a success. We are an experienced team that can supply and meets your quality standards. To get started, please submit the quotation form here.