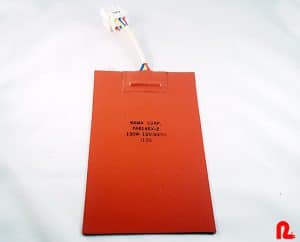 Silicone rubber heaters fall under the category of flexible heaters that get their origin from silicone rubber, which is a form of synthetic rubber. Silicone rubber is a material that may be used to make flexible heaters. These heaters are often utilized in the same kinds of applications that call for industrial heaters to be used in order to warm up smaller areas.
Several of these areas are inaccessible, making installing conventional or widespread heaters impossible. Silicone rubber heaters have slim profiles and can be laminated or bonded to various substrates relatively easily. These substrates demand temperatures that are either stable or high.
Heaters made of silicone have heating circuits composed of wire-wound and etched foil, which are sandwiched between two sheets of silicone. Meanwhile, flexible heaters made of silicone rubber provide both geometric flexibility and the capability to be customized, characteristics that make them an excellent option for both static and dynamic applications.
Due to the reason that they are entirely modifiable, silicone rubber heating units may be simply incorporated into any application that is already in use. They may also be utilized in conjunction with temperature sensors and connectors to provide more fruitful outcomes.
Why Rama Corp Developed Silicone Rubber Flexible Heaters For Many Applications
If you use silicone rubber heaters for your project, one of the primary advantages you will experience is increased thermal uniformity. This is a direct consequence of the high degree of dimensional stability provided by the silicone rubber component. In recent years, there has been a general rise in demand across all sectors for these flexible heaters.
Silicon Rubber Flexible Heaters for Industries: Proven Benefits
The following hints will assist you in comprehending the factors that are contributing to the ever-increasing demand for silicon rubber flexible heaters for commercial and industrial applications:
Silicone rubber is an elastomer that is intended to resist moisture and chemicals. Because of this, it offers a high degree of protection in situations where any of these elements might potentially come into contact with the material.
Because they are resistant to chemicals as well as moisture, flexible silicone heaters are an excellent option for portable or moveable heating equipment.
Flexible silicone heating components have a structure that is both thin and flexible, which leads to quick heating. In addition to this, fast conduction may be supported by heating circuits that use either a wire-wrapped structure or etched foil.
Because of their quick heat transmission capabilities, silicone rubber flexible heaters are an excellent option for use in situations in which rapidly increasing the temperature is crucial to maintaining the effectiveness of the process.
Flexible heaters made of silicone rubber are very portable due to their low weight. Therefore, they are suitable for use in multiple locations.
These heaters are compact, yet their sturdy design makes them resistant to shock.
The flexible silicone heating elements have a life expectancy of many years and can fulfill the needs of various applications operating at temperatures between medium and low.
They are able to be fashioned into a wide variety of forms, including round, square, or rectangular configurations, as well as any other customized design you could like.
They may be used with resistance temperature detectors (RTDs), thermocouples, and wiring harnesses to provide more precise temperature regulation.
In addition to their use in applications with high temperatures, silicone rubber heating components are also appropriate for use in applications with low temperatures.
Where to Get the High-Quality Silicon Rubber Flexible Heaters?
To make the most of these advantages, it is essential to get your flexible silicone heating units from reputable manufacturers that have extensive industry expertise. In the meantime, the Rama Corporation is recognized as a market leader among the manufacturers of silicone rubber flexible heaters. By delivering high-quality, customized heaters made of flexible silicone rubber, the firm has been catering to the needs of its customers in a variety of sectors.