A resistive foil layer and a dielectric are the two components that make up flexible heaters. These are electric heaters with a thin profile. Besides providing the heater with electrical insulation, the dielectric layer also makes the heater flexible. Polyimide, Kapton, and silicone may be the most frequent materials when flexibility is required in a dielectric material.
Despite their variances, the heating provided by these dielectrics is both uniform and concentrated as necessary. These heaters may have their surfaces directly attached to the application, which ensures that the application receives the maximum amount of heat possible.
Flexible heaters are in high demand in the semiconductor sector for various reasons, including those listed above. The production of semiconductors is a difficult operation that calls for high-quality heating equipment specifically designed for semiconductors. E.g., heating semiconductor wafers is necessary throughout the production and testing stages of the manufacturing process. There are multiple advantages to using flexible heaters in the semiconductor sector.
Benefits of Flexible Heaters in the Semiconductor Industry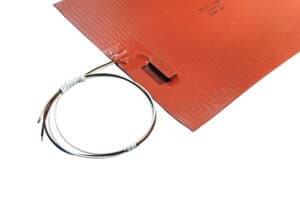 Etching systems, test instruments for integrated circuits (ICs), semiconductor test modules, and a wide variety of other applications all use semiconductor heaters in some capacity. Here are a few reasons why the semiconductor industry may benefit from using flexible heaters.
The heaters' material qualities and direct bonding capabilities reduce outgassing.
They give equal heat distribution and permit excellent heat transfer.
Flexible heaters are very thin, have remarkable bending capabilities, and stick well to the target item that is to be heated. Because of this, they have a good capacity to transmit heat.
They are utilized in manufacturing wafers. The reason might be that the needed high temperatures may be maintained throughout the production process.
Integrated circuits undergo "burn-in" testing using these components first.
They have quick times for both heating up and cooling down.
The heaters have the capability of being developed with built-in sensors and fuses.
Using multi-layer heater circuits is another possibility for expanding the heated area.
Rama Corporation Develops Customized Flexible Heaters
Suppose you are an original electronics equipment manufacturer and need a flexible heater to accommodate the tiniest and most complex semiconductor applications. Then, ensure you purchase them from a dependable manufacturer with expertise in the field. Additionally, search for a partner that can customize these heaters according to your particular specifications and needs.
The flexible heaters developed by Rama Corporation are rugged, flexible, and multifunctional. They ensure an equal dispersion of heat over surfaces that may be either uniform or uneven. Our heaters were developed specifically for industrial equipment and devices that need low to moderate heating levels. Thanks to their low weight and narrow cross-section, they may be employed in controlled access areas where conventional heating elements are difficult or impossible to adjust.
Furthermore, all aspects of our heaters may be tailored to the customer's specifications. It provides several advantages in addition to helping to boost innovation and productivity among manufacturers of semiconductors. Feel free to fill out our quotation form.