If you're trying to heat an object or substance that doesn't have a traditional or consistent shape, it can be hard to find a heater that can take care of the job. In reality, heavy industry and commercial work require you to heat products with different shaping or sizing. Most traditional heaters don't do an excellent job of providing adequate heat to specific products.
Fortunately, flexible heaters create a solution for this issue. These heaters come in a variety of different shapes and sizes and can warm products that don't typically have a compatible heating source.
At Rama Corporation, we are the United States highest quality flexible heaters manufacturer. We are a top-rated industrial product provider offering several varieties of heaters that serve a wide range of purposes. If you're interested in flexible heaters and how they may be able to help your business, take a more in-depth look at what this unique device has to offer.
What is a Flexible Strip Heater?
In essence, a flexible heater is a heater that has adjustable applications. Unlike sizeable industrial heating products, you can use flexible heaters to bring different surfaces to a specified temperature, and you can apply them to irregular surfaces and shapes.
Flexible heaters are extremely useful in several industries. If you haven't used one previously, you may be using a heating source that is not as effective as your business needs.
Many flexible heaters are built out of rubber or silicon and should withstand the test of time; they often perform well in rough conditions. For your flexible heater to be as efficient as possible, you should purchase a version that is durable and water-resistant.
There isn't an explicit definition for a flexible heater; the type you purchase will depend on your chosen manufacturer. At Rama Corporation, our flexible heaters are built using silicone rubber, making them durable, water-resistant, and flexible heating products.
Rama Corporation's adjustable heaters easily wrap around various surfaces and can heat the most complex shapes and sizes. We also build a custom shape heater for multiple industrial purposes if the dimensions of our existing products do not suit your needs.
Our custom heaters are designed to ensure you have the most effective heating mechanism for your business. Our team of specialist designers can work with you to determine the best size and shape for your existing or new infrastructure. There is no limit to what we can produce.
Our heaters come in a range of terminations. You can choose between Teflon, PVC, MGT wire, SJOOW power cord, two-wire, three-wire, and more. All of our heaters have the option to include a thermocouple integrated into the heater, and both fixed and adjustable thermostats are available upon request.
Also, all heaters are available with PSAS to adhere to your part. Rama can also vulcanize the heater to your custom part. In terms of finished plugs, we work with a variety of suppliers, including TE Connectivity/AMP, Molex, Hubbell, Leviton, and more.
Our flexible strip heaters also come in a variety of colors. At present, we offer red, white, green, and black. If you have other color requirements, we can accommodate your request via custom orders.
We also can silk screen print flexible heaters with business logos and graphics, which is an excellent advantage if your product will be visible to the public. You can speak to our team about your specific branding requirements if necessary.
On top of our traditional flexible heaters, we are also able to manufacture continuous heater blankets that can cover vast surface areas. These blankets can be produced at up to 36″ by 120″ before splicing. They're an excellent tool if you have a large surface that needs consistent heating.
All of our company's heating products are DFARS compliant, meaning that our quality standards are trusted by some of the largest military and aerospace organizations in the world. When you purchase a Rama Corporation flexible heater, you're genuinely accessing the industry's most premium products.
Please be sure to check out or main Flexible Heater Page
How Do Flexible Heaters Work?
The particular functioning of your flexible heater will depend on the type of product that you're working with because they are traditionally built using thin, elastic material, and they work in a variety of ways.
At Rama Corporation, our flexible heaters work by providing surfaces with consistent heat. They are built to withstand a variety of conditions, making them the perfect solution, regardless of the external climate.
Because rough and inconsistent surfaces require flexible heaters, they use different fastening mechanisms to attach themselves to objects. At Rama Corporation, we use hooks, springs, lacing eyelets, clamping bands, pressure-sensitive adhesives, snap-together fasteners, and more to help you secure your heater.
This form of the heating device provides users with several advantages not found in other heating products. If you're currently struggling to provide adequate heat to a surface, you may be using the wrong type of heater. Flexible heaters fit tightly to a surface to ensure they heat the entire desired area.
These heaters also allow users to be exact and reduce the cost of heating a smaller object. For example, if you only need one item in a warehouse to retain heat, it's pointless to warm the entire space. Flexible heaters provide a practical and affordable solution for the controlled heating of specific surfaces.
It's important to keep in mind that while flexible heaters can reach up to 475°F, they're classified as a moderate heating source. If you need an excessive amount of heat, you'll have to work with a different heating product that can reach much higher temperatures. If you need an immense amount of heat, we also have products in that arena.
Different Types of Flexible Heaters
If you've been researching flexible heaters, you've probably noticed a few different options on the market. Below, we'll explore some of the most common types of flexible heaters currently available in the heating industry.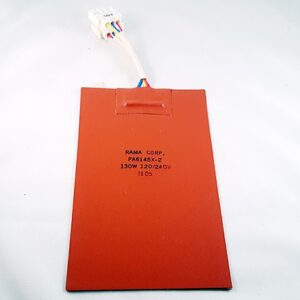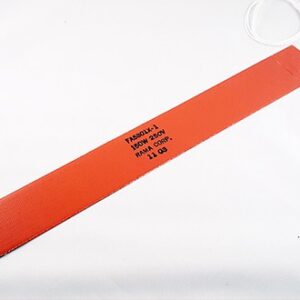 Silicone Rubber Heater

Silicone rubber is one of the most popular forms of flexible heaters and is built and trusted by Rama Corporation. They are typically made with fiberglass-reinforced silicone rubber, helping to ensure that heat can be effectively transferred to the target surface.
The nature of silicone rubber material ensures that your flexible heater is truly adjustable. Most silicone rubber heaters are also extremely thin so that it can fit in tight spaces and wrap around a variety of different objects.
Many silicon rubber heaters also have fasteners or latches that help them stay secured to their designated objects or surfaces. If you're looking for a flexible heater that is durable and suitable for wet conditions, silicon rubber heaters are your best option. They're incredibly effective at providing constant heat to untraditional surfaces.
Screen Printed Heater

Screen printer heaters are printed using special ink and controlled with a thermal circuit. They're sometimes used to heat vehicles or buses in cold conditions. This form of a heater isn't as popular as some of the others mentioned in this section.
Polyimide Heater

Polyimide heaters are built using a polymer film that can withstand wear and tear. They provide excellent heat transfer to a variety of different surfaces. Polyimide flexible heaters are extremely thin and flexible and are another useful option for those who need to heat rough or unorthodox surfaces.
Flexible Strip Heaters Use
Flexible heater strips are another popular option that can help benefit business owners that have complex heating requirements. Flexible strip heaters are pieces that attach to surfaces or objects. They provide moderate heat to keep an object's surface warm.
Like traditional flexible heaters, strip heaters are incredibly lightweight. They're also extremely thin, which allows them to fit onto most surfaces effortlessly. Heating strips can be matched with an adhesive that attaches the strip heater to the desired surface.
If you're looking for a convenient, low-cost way to heat surfaces, a flexible strip heater is one of your best choices. We provide premium flexible strip heaters that can perform several different functions. If you'd like to speak with us about a custom version, get in touch with our team.
Applications for Flexible Heaters
Flexible heaters are a convenient way to heat a specified area. If you're looking for a heater that can attach to a wide variety of surfaces, flexible heaters are an excellent choice. However, how can flexible heaters be used? Let's take a look at some common ways business owners use this unique device.
Aerospace
The aerospace industry is one sector that takes particular advantage of flexible heaters. Because airplanes often operate in extreme conditions, using a flex heater can help ensure that temperatures are relatively controlled. They are incredibly lightweight, which means they don't have a significant impact on the weight of the aircraft.
Military
Because military vehicles and equipment also operate in extreme conditions, flexible heaters can help ensure that everything runs smoothly. There are lives on the line when military equipment stops working, and flexible heaters can be a precious tool in various military situations.
Auto
Flexible heaters offer a range of different benefits to the auto industry. Many of them are used to keep auto components warm during harsh weather, which can be a vital application for public bus companies during the cold winter months.
Medical
We provide countless flexible heaters to medical companies. This industry often requires extensive temperature regulation, which means that flexible heaters are an excellent tool for various medical applications.
Electronics
In many cases, flexible heaters are well suited for helping the performance of electronics. For example, if you have a television that functions outside, you may need a flexible heater to help keep it warm during freezing temperatures.
Flexible heaters are often used to ensure that electronics can function adequately during the winter months. Because of its lightweight nature, it doesn't add any additional weight or burden to the electronic equipment.